Toxic Waste Management - An Overview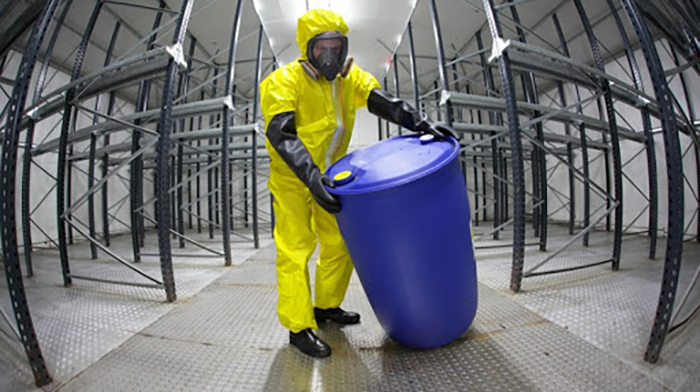 Hazardous wastes are classified based on their biological, chemical, and physical properties. These properties result in toxic, reactive, ignitable, corrosive, infectious, or radioactive materials. Some toxic wastes are carcinogenic, meaning they can cause cancer after years of exposure. Others, on the other hand, are mutagenic, causing significant biological changes in the offspring of exposed humans and wildlife.
What is Toxic Waste Management?
Toxic waste management is the collection, treatment, and disposal of waste material that, if not handled properly, can cause significant harm to human health and safety or the environment. Toxic wastes can be solids, liquids, sludges, or contained gases, and they are primarily produced by chemical manufacturing, manufacturing, and other industrial activities.
Toxic waste can cause harm if improperly stored, transported, treated, or disposed of. Improper toxic waste storage or disposal frequently contaminates surface water and groundwater supplies, resulting in harmful water pollution, and can also be a source of hazardous land pollution. People who live in homes built near old and abandoned waste disposal sites may be particularly vulnerable.
Transportation of Toxic Waste
Toxic wastes generated at a specific location frequently require transportation to an approved treatment, storage, or disposal facility (TSDF).
The government is paying special attention to transportation because of the potential threats to public safety and the environment. Aside from the occasional accidental spill, hazardous waste has been intentionally spilled or abandoned at random locations in the past, a practise known as "midnight dumping." This practise has been significantly curtailed by the passage of laws requiring the proper labelling, transportation, and tracking of all toxic wastes.
Toxic Waste Transportation Vehicles
Generally, hazardous waste is transported on public highways by lorries. Only a small portion is transported by rail, and almost none by air or inland waterway. Because road vehicles can access most industrial sites and approved TSDFs, highway shipment is the most common. Railroad trains, on the other hand, necessitate costly siding facilities and are only suitable for very large waste shipments.
Toxic waste can be transported in tank lorries made of steel or aluminium alloy with capacities of up to 34,000 litres. They can also be containerized and transported in 200-litre drums. Government regulations include specifications and standards for cargo tank trucks and shipping containers.
Treatment, Storage and Disposal
There are several options for toxic waste disposal. The most desirable method is to reduce waste at its source or to recycle the materials for another productive use. Nevertheless, while waste reduction and recycling are desirable options, they are not viewed as the final solution to the problem of toxic waste disposal. There will always be a need for some amount of toxic waste to be treated, stored, or disposed of.
Toxic Waste Treatment
Toxic waste can be treated chemically, thermally, biologically, or physically. Ion exchange, precipitation, oxidation and reduction, and neutralisation are all chemical methods. High-temperature incineration is one of the thermal methods that can not only detoxify but also destroy certain organic wastes. Thermal equipment of specialised design is used to burn waste in solid, liquid, or sludge form. Fluidized-bed incinerators, multiple-hearth furnaces, rotary kilns, and liquid-injection incinerators are examples of these. The potential for air pollution is one of the issues raised by toxic waste incineration.
Certain organic wastes, such as those generated by the petroleum industry, can also be treated biologically. Landfarming is one method of biologically treating hazardous waste. The waste is carefully mixed with surface soil on a suitable plot of land in this technique. Microbes that can metabolise waste, as well as nutrients, may be added.
In some cases, a genetically engineered bacterial species is used. Food and forage crops are not grown on the same plot of land. Microbes can also be used to stabilise toxic wastes on previously contaminated sites, a process known as bioremediation.
The waste material's molecular structure is altered by the chemical, thermal, and biological treatment methods described above. In contrast, physical treatment concentrates, solidifies, or reduces the volume of waste. Evaporation, flotation, sedimentation and filtration are examples of physical processes.
Another method is solidification, which is accomplished by encasing waste in concrete, asphalt, or plastic. Encapsulation results in the formation of a solid mass of material that is resistant to leaching. Waste can also be combined with lime, fly ash, and water to create a solid, cement-like substance.
Surface Storage and Land Disposal
Toxic wastes that cannot be destroyed by incineration or other chemical processes must be properly disposed of.
Land disposal is the ultimate destination for the majority of such wastes, though it is not an appealing practise due to the inherent environmental risks involved. Landfilling and underground injection are the two most common methods of land disposal. Surface storage or containment systems are frequently used as a temporary method prior to land disposal.
Open waste piles and ponds or lagoons are examples of temporary on-site waste storage facilities. New waste piles must be carefully built over an impervious base and must meet regulatory requirements that are similar to landfills. The piles must be shielded from wind and erosion. Monitoring and control systems must be installed if leachate is produced. Only non-containerized solid, non-flowing waste can be stored in a new waste pile, and the material must be landfilled when the pile becomes unmanageable in size.
An open pit or holding pond, known as a lagoon, is a common type of temporary storage impoundment for hazardous liquid waste. To protect groundwater, new lagoons must be lined with impervious clay soils and flexible membrane liners. Leachate collection systems and groundwater monitoring wells must be installed between the liners.
Open lagoons provide no waste treatment other than some sedimentation, evaporation of volatile organics, and possibly some surface aeration. Sludge that has accumulated must be removed on a regular basis and handled as a hazardous waste.
Many older, unlined waste piles and lagoons are located above aquifers used for public water supply, posing significant health and environmental risks. Around the world, a large number of these old sites have been identified and scheduled for cleanup, or remediation.
Secure Landfills
Landfilling of hazardous solid or containerized waste is subject to stricter regulations than municipal solid waste landfilling. Toxic wastes must be disposed of in secure landfills with at least three metres of space between the landfill's bottom and the underlying bedrock or groundwater table.
Two impermeable liners and leachate collection systems are required for a secure toxic waste landfill. The double leachate collection system is made up of a network of perforated pipes that are installed above each liner. The upper system prevents leachate from becoming trapped in the fill, while the lower system acts as a backup. Leachate is collected and pumped to a treatment plant. An impermeable cap or cover is placed over a finished landfill to reduce the amount of leachate in the fill and the potential for environmental damage.
A groundwater monitoring system is also required, which includes a series of deep wells drilled in and around the site. The wells enable a routine sampling and testing programme to detect any leaks or groundwater contamination. If a leak occurs, the wells can be pumped to intercept the polluted water and transport it to the surface for treatment.
Deep-well injection is one method for disposing of liquid toxic waste. This procedure involves pumping liquid waste through a steel casing into a porous layer of limestone or sandstone. High pressures are used to force the liquid into the pores and fissures of the rock, where it will be stored indefinitely. The injection zone must be located beneath a layer of impervious rock or clay and may extend more than 0.8 km beneath the surface.
Deep-well injection is relatively inexpensive and requires little or no waste pretreatment, but it poses the risk of toxic waste leaking and eventually polluting subsurface water supplies.
Remedial Action
Toxic waste disposal in unlined pits, ponds, or lagoons endangers human health and the environment. Many of these uncontrolled disposal sites have been used in the past and have since been abandoned. Remediation of those sites may be required depending on the level of risk determined. In some cases, the threat may necessitate immediate action. In other cases, engineering studies may be required to thoroughly assess the situation before taking corrective action.
One option for remediation is to remove all waste from the site and transport it to another location for treatment and proper disposal. This off-site solution is typically the most expensive option. On-site remediation is an option that reduces the production of leachate and reduces the risk of groundwater contamination.
On-site remediation may include the temporary removal of toxic waste, the construction of a secure landfill on the same site, and proper waste replacement. Treatment of any contaminated soil or groundwater may also be included. Treated soil can be replaced on-site, and treated groundwater can be returned to the aquifer via deep-well injection.
Full waste containment is a less expensive option. This is accomplished by erecting an impermeable cover over the toxic waste site and obstructing groundwater lateral flow with subsurface cutoff walls. When there is a natural layer of impervious soil or rock beneath the site, cutoff walls can be used for this purpose.
The walls are built around the perimeter of the site and are deep enough to reach the impervious layer. They can be excavated as trenches around the site without disturbing or moving the waste. To prevent collapse during construction, the trenches are filled with a bentonite clay slurry, and they are backfilled with a mixture of soil and cement that solidifies to form an impermeable barrier.
Thus, cut-off walls act as vertical barriers to the flow of water, while the impervious layer acts as a barrier at the bottom.
Conclusion
Toxic waste management is a complex yet important practice that has to be implemented by manufacturing companies that produce hazardous waste as a byproduct of their production processes. To understand and learn of the best ways to dispose of your toxic byproducts, get in touch with us and speak with our expert.

GreenTec Energy Pte Ltd (GTE) is a waste management company located in Tuas, Singapore.

Our service includes Industrial waste, Oily waste, Marine waste.

To provide a hassle free solution to our customer is always the key approach and to ensure a win-win situation towards. As a NEA approved environmental company in Singapore, we take all our services seriously and to ensure maximum safety with compliances applied. Every step of our disposal processes are also designed to meet NEA & SCDF requirements, with latest treatment facilities and laboratories to test and treat all incoming waste before disposal.
GTE operates a total land area of about 100,000sqft at 14 Tuas South Street 12 Singapore 636953. With our comprehensive logistics and transportation fleet, we provide prompt and efficient services in transportation of waste to our premises.